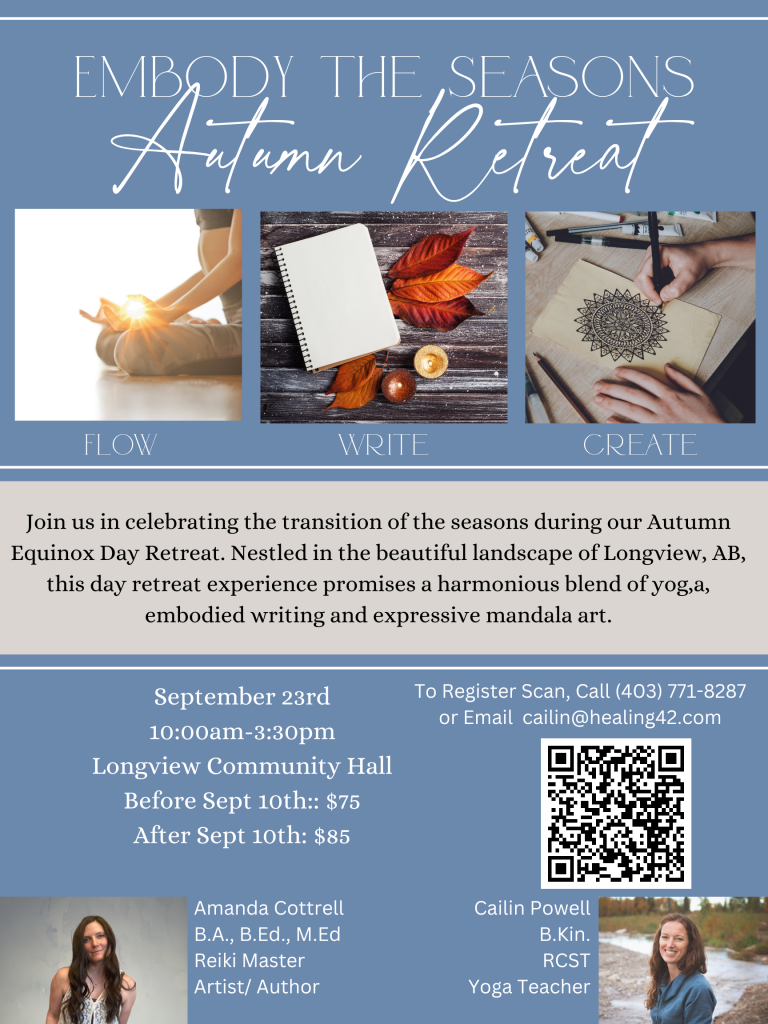 Embody the Seasons Autumn Retreat: Flow, Reflect, and Create 🍂
Join us on September 23rd at the Longview Community Hall, as we celebrate the transition of the seasons during our Autumn Equinox Day Retreat. Nestled in the beautiful landscape of Longview, AB, this day retreat experience promises a harmonious blend of yoga, embodied writing and expressive mandala art.
Retreat Highlights:
Morning:
Arrive 9:45 am to settle in
Opening Circle and Meditation (10am)
🌞 Morning Flow and Restore: Begin your day with a flow yoga session followed by restorative poses. This session will provide you with a deep sense of grounding and balance within the body, mind and spirit.
✍️ Embodied Writing Journey: Embark on a journey of self-discovery through embodied writing. Guided by Cailin, you'll be given writing prompts to tap into the interwoven relationship of your inner rhythm and the changes in our natural world. Through the art of words, you'll unearth insights and reflections that resonate with the spirit of the Autumn Equinox.
After Lunch (12:30pm):
🎨 Mandala Art Creation: Tap into your creative essence as you delve into the captivating world of mandala art. Under the guidance of Amanda, you'll use vibrant autumnal hues to craft your own intricate mandala masterpiece. This meditative art form will encourage self-expression and inner exploration.
Retreat Inclusions:
All art supplies for mandala creation
Herbal teas
Writing prompts for at home reflection
Guided meditations to enhance your connection with the equinox energy
What to Bring:
Comfortable yoga attire
Your favorite tea mug (paper cups provided)
Yoga mat and any props you prefer (blocks, straps, pillows)
Blanket or sweater to stay cozy
Journal and colorful pens for embodied writing
An apron or old t-shirt to paint in
Investment: $85
Early Bird Discount $75 until September 10, use promo code earlybird at checkout
Limited spaces available to ensure an intimate experience.
As we gather on this sacred day of balance and transition, let us honor the rhythm of nature and the cycles within ourselves. This Fall Equinox Day Retreat promises to be a transformative journey of self-care, creativity, and connection. Reserve your spot today and embrace the magic of autumn in its full splendor.
To secure your place or inquire further, please contact us at cailin@healing42.com or call (403) 771-8287.