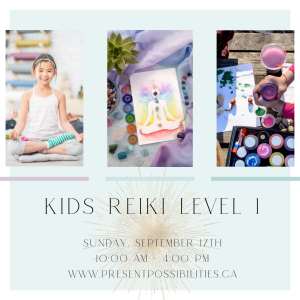 CA$125.00
Reiki is a form of energy work that helps one connect to the universal life force that exists all around us. Reiki can help kids discover more peace, ease, healing, calm, and joy in their lives.
Sunday, September 17th, 2023
10:00 am – 4:00 pm
Include in this full-day training:
– an introduction to reiki
– an introduction to the chakra system
– reiki stone painting & chakra art project
– meditation
– various applications & uses
– hand positions
– take home guide
– certificate of completion
***Bonus Children's Book included
I am a rainbow, a children's guide to the chakras by Amanda Cottrell
Children will learn the history of Reiki, how to use their hands to scan for energy and vitality, how to practice self-Reiki, and how to share Reiki with anyone … including other children, adults, pets, and plants. Each child will receive a take-home guide, a Level 1 Reiki Practitioner Certificate, and a bonus gift…"I am a Rainbow, a Children's Guide to the Chakras" book written by Amanda Cottrell.
Benefits of Reiki Training for Children:
· Reiki helps children to be more confident, peaceful, & happier
· Reiki supports children through the stresses of modern life
· Reiki helps children connect to their innate abilities and intuition
· Reiki empowers children & helps them connect to their higher self
· Reiki improves children's concentration & creativity
· Reiki enhances relaxation & sleep in children
All necessary supplies & materials will be provided in this training.
This Reiki Level 1 Training has been designed just for kids aged 7+. The Reiki I attunements administered to each child are the same as the ones provided to adult Reiki students.